ProfiScript – PROFIBUS Certification Tool
ProfiScript is a low cost professional PROFIBUS pre-certification tool that can test and verify the complete protocol functionality of DP, DP-V1 and PA devices.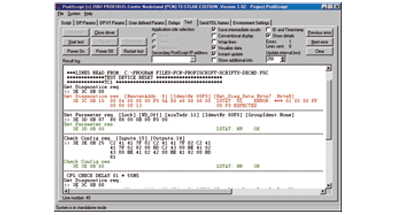 ProfiScript – PROFIBUS Certification Tool
It has enormous flexibility and is very easy to use. At this moment it is the only tool available, which can power-up/down devices by an external intelligent power switch and has the capability of remote testing over the Internet. An implemented syntax interpreter can also test the GSD file.
Application areas
Product certification (Real Testlab Tool).
Pre-conformance testing.
Product development.
Test-system for production verification.
This is the tool that will save you time and money during your PROFIBUS development and pre-certification phase, because we are also using this tool in our testlab!
Product features
Works on PCs with a ProfiCore attached to the USB port
Supported operating systems: Win98(SE), Win2000, WinXP.
Language: English.
Script details
Pre-built scripts for DP and DP-V1 (test cases according to IEC 61158).
Quick and easy iteration of a testscript (including user commands).
Backward compatible with the old Siemens based test scripts.
Selectable timestamping, details and framecount.
Partial test (only a specified portion of the testcase).
Dynamically settable delays of individual messages.
GSD file interpreter
Visual configuration of the script settings by an internal GSD interpreter.
Automatic setup of the slave settings for a test.
Checking for common errors.
Direct visibility of the parameter and configuration data in hex codes.
Others
Manual sending of messages (Set Parameters, Set Slave Address, Get Diagnostics, etc.).
Save/Export results in RTF format.
Integrated help functions.
Remote access by means of TCP/IP.
Automatic power down/up of slaves with the Intelligent Power Switch (option).
ProfiCore?
Full speed USB interface.
PROFIBUS baudrate max. 12 Mbps.
Galvanic isolated PROFIBUS Interface.
Latest RS 485 technology.
Trigger output port for oscilloscopes (message capturing).
Communication processor can be used by other applications.
Power Switch
Maximum 250 V – 3 A.
Can switch device power, PA bus or device I/O.
8 Switches on the Power Switch.
The RS 232 port of the PC connects the Power Switch to ProfiScript.
The switches are controlled by the scripts.
| Products | Price | Order code | Remarks |
| --- | --- | --- | --- |
| ProfiScript + ProfiCore | Contact us | 33020 | CD-ROM with ProfiScript, ProfiCore and USB cable (hardware and software).. |
| Intelligent Power Switch | Contact us | 15010 | Delivered with serial cable. |
Remarks
You still need a certification at an accredited testlab to get international recognition even if you get good results in the software!
No support for the ProfiCore 1.