Active PROFIBUS DP Termination T1
The T1 Terminator provides active and reliable termination for PROFIBUS segments which are based on RS 485. By using this component it is possible to turn off, remove or replace devices without disturbing the bus communication.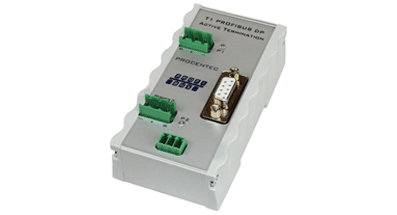 Active PROFIBUS DP Termination T1
The T1 has a couple of special features which makes it a very useful infrastructure component; a redundant power supply and diagnostic LEDs to indicate the status of each power source. It is also equipped with an additional DB9 connector for ProfiTrace or other maintenance/engineering tools. The DB9 connector can also be used as the primary bus connection if circumstances so dictate.
The T1 Terminator can be installed on a standard DIN-rail.
Product features
PROFIBUS specifications
390 / 220 / 390 Ohm
Supports all PROFIBUS RS 485 protocols
(DP, DP-V1, DP-V2, FMS, PROFIsafe, PROFIdrive, MPI, etc.)
9.6 kbps..12 Mbps
Removable screw terminals and 1 DB9 connector
Power supply specifications
Operating Voltage: 19..28 VDC
Current consumption: < 60 mA
Redundancy: Power 1 OR 2
Diagnostic LEDs to indicate the status of the power supply
Ambient conditions
Operating temperature: -20..+60 °C
Dimensions and weight
Dimensions (LxWxH): 106 x 55 x 33 mm (without plugs)
125 g
Others
DIN-rail mounting
IP 20 classification
| Products | Price | Order code | Remarks |
| --- | --- | --- | --- |
| T1 Terminator | contact us | 101-00211A | |